This is my wife and I love her more than myself.
Lynnette is going through a lot. She has had so many things happen to her when she delivered our son. She went into a Coma after the delivery. A blood disorder consumed her body, it was called Disseminated Intravascular Coagulation. It was 5 1/2 days of living hell for me and her family.

On top of it all, she now has a disorder called Ashermans Syndrome. It is only by the grace of God that she keeps on. It was a miracle that she came out of that coma. The incident has certainly changed our lives.
Today life has been consumed with the all too many doctor appointments, figuring out how a student can pay for all of these medicines that my wife needs, filling out forms and trying to determine why a Honorably discharged Veteran has to fight so against the very government that he once defended. I still love my country, but our health care system is in utter chaos. It is no wonder so many go untreated and improperly diagnosed.

I assume that if you are this site, you are either: religous, researching health problems, looking at geneology. I hope that you get to know Jesus as we have. He has been the truth, the light and the way for us.
Medical costs in this country have soared to unmanageable levels. We are asking that if you came here to read this story, share in the Lord, or do some research and you feel that you may have a little more than we, and can help, please do so.
I have only one more year of school to go before I can fully support my family. This has been the hardest year. My family and I want to thank our visitors for thier inspirational words and patience. This has been a long and winding road.

There are a lot of questions one may ask when reading our pages. Use the link below to go to ASKME.COM


Disseminated Intravascular Coagulation
Support The Ashermans Syndrome Online Community


Click to subscribe to Ashermans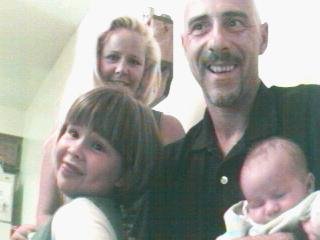 Us shorthly after Joseph was born.